"The night before I proposed to Amanda, Amanda turns to Becca and says 'What do you think, should I marry Neil Gaiman?' And Becca says 'Duh!' And at that point I knew it was a done deal."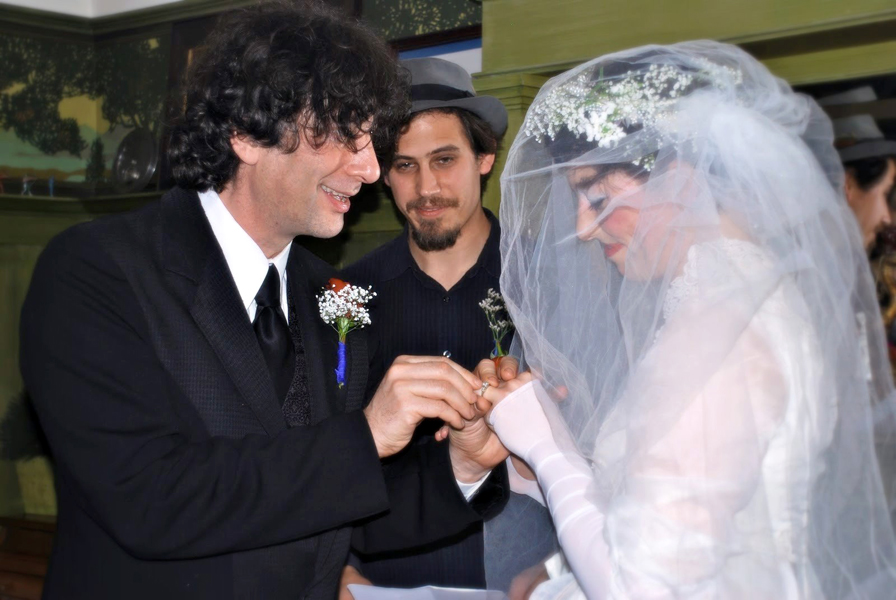 Photo Credit: Kambriel.com
International renaissance power-couple Amanda Palmer and Neil Gaiman are on the phone from London, Gaiman stepping away from his writing and Palmer powering through a post-tour flu to discuss their friend and confidant, Rebecca Rosenthal. The pair are hosting A Tribute to Rebecca Rosenthal: A Night of Music, Art & Remembering at the Somerville Theatre this Monday as benefit for the scholarship established in the memory of their late compatriot: an artist, archivist, and former Dresden Dolls merch girl.
"She was a wonderfully joyous, spastic college kid that came to all of our shows and would bring strange gifts," says Palmer.
"She had once given me this stack of lyrics—she and her friend Pickles had rewritten all of the [Dresden Dolls] songs to be about fruit and astronauts."
Rosenthal was that rarest of creatures, the super-fan that becomes a friend, the girl at all the shows that would become an essential part of the Dolls' inner-circle and leave a profound mark on all involved.
There is a sense of awe and reverence when Palmer and Gaiman reminisce about the "art freak" and "information warrior" that clearly touched both their lives.
It is befitting, then, that her tribute is not a memorial but an "art party," celebrating her life and featuring a rare Dolls reunion, the first public performance of a new Gaiman story, and scores of other performers including accordionist Jason Webley.
"People that didn't know her will get to know who this beautiful person was by the way she created around her," says Palmer.
"She was an inspiration, a muse—a beautiful, kind, sharing person."
A TRIBUTE TO REBECCA ROSENTHAL: A NIGHT OF MUSIC, ART & REMEMBERING
W/ AMANDA PALMER AND NEIL GAIMAN
MONDAY 10.7.13
SOMERVILLE THEATRE,
55 DAVIS SQUARE
SOMERVILLE
7PM/ALL AGES/$25-$100
@NEILHIMSELF
SOMERVILLETHEATREONLINE.COM