The 2013 VMAs came with many included promises. We were told *NSYNC would reunite, Lady Gaga would be a whack-job (or something), Katy Perry would perform her new song, and just hours before the show Justin Timberlake hinted towards a possible appearance.
Well, it goes without saying that if you have internet access, you know that all of this happened and more … much, much more.
The show opened with Lady Gaga and her new song "Applause" which is quite literally about how she is all that ever was pop culture and beyond. And GET THIS: she only changed her costume four times during the performance. However, I don't think everyone was buying it.
Did she really have to change her wigs 4 times for us all to realize she was just inspired by herself tho

— Zack Dessent (@zdessent) August 26, 2013
And of course, Will Smith and family appeared nothing short of horrified.
We were then greeted by a comedian, and folks, let's just settle this once and for all:
Kevin Hart was not hosting the 2013 VMAs, but he loved Lady Gaga's yams.
Sometime after that, the artist formerly known as Hannah Montana, AKA Miley Cyrus, took the stage to play her new (and very controversial) song "We Can't Stop."
Ho-ly sh-t. I have seen some pretty obnoxious VMA performances, but it's safe to say that one took the cake.
Giant stuffed, disturbing bears, a hideous leotard, a lot of crotch-grabbing and way too much tongue. And just when you thought it couldn't get any more jaw dropping, it did. Robin Thicke came out with the equally-as-controversial "Blurred Lines," and Miley performed with him …
and then she twerked on his crotch and stuck her tongue out again. 
As shocked as some of us were, other people understood that she was "just being Miley."
This is Miley's 5th or 6th downward spiral? Lmk

— Jenna Calderara (@jenrara) August 26, 2013
At one point Jared Leto came out looking like Tarzan, and then Kanye took the stage to perform "Blood on the Leaves"…except the folks at home may have missed this because his entire performance was almost entirely a silhouette in front of a screen.
Taylor Swift won my award for Best Acceptance Speech of the night when she made an indirect stab at Harry Styles of One Direction for being the inspiration behind her song I Knew You Were Trouble. She even thanked him! It was really sweet to be honest.
Kanye didn't interrupt, however, much to my disappointment.
I should also mention Gaga's hair/wig/whatever (and shells) looked luscious at this point in the night.
Eventually Jimmy Fallon came on to introduce the "President of Pop" Justin Timberlake, and I don't think I am alone when I say I thought he was going to have a stroke right there on stage.
Then again, I can't really remember a time when Jimmy Fallon wasn't completely out of breath.
Justin Timberlake went on to perform possibly his longest consecutive melody yet, and then it happened…
*NSYNC TOOK THE STAGE.
It's quite possible you missed the performance if you sneezed or blinked, but aside from that and the fact that their moves are not what they once were, the boys certainly proved what it means to be a TRUE boy band.
*glances at One Direction* you dun tried tho boys — Jenna Calderara (@jenrara) August 26, 2013
  It seems the show's producers were really interested in Taylor Swift's reactions to absolutely everything that happened during the night.
Macklemore, Ryan Lewis, and Mary Lambert performed their sexual equality-inspired song "Same Love" shortly after, and PLOT TWIST: Jennifer Hudson joined in halfway through, and she looked GREAT. Shortly after,
Drake performed his song "Started from the Bottom" which could be a reference to his Degrassi days. Either way, it was a pretty solid performance as far as live hip-hop goes.
Taylor Swift presented the award for Best Male Video, because MTV loves to be ironic, which went to who-the-hell-is Austin Mahone.
Wondering who the hell this Justin Bieber wannabe Austin Mahone is #VMAs — ThingsWhiteFolksLike (@Things4WhitePpl) August 26, 2013
Folks, it should be noted that Rihanna, who showed up in a t-shirt and jeans, was not amused at any point in the night.
Bruno Mars performed his song "Gorilla" which included an outrageous laser show. And gentlemen, take notes from Bruno going-on-a-safari-Mars on how to properly use a metaphor to sing an entire song about your little … or gorilla-sized … member.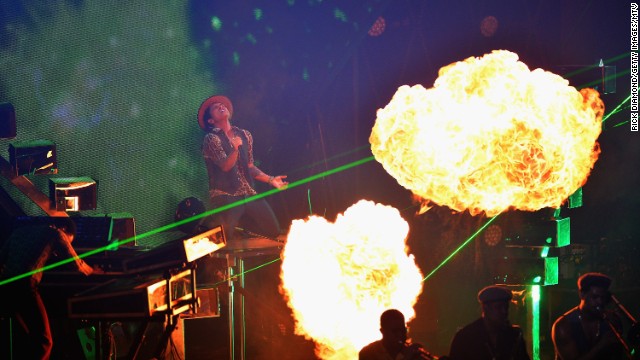 Katy Perry ended the night with a performance of her new song "Roar" on a boxing-ring stage outside the Brooklyn Bridge.
It was actually one of her best performances, and one of the better ones of the night. Glad to see she's no longer doing the whole cupcake-lollipop-cotton candy-cloud thing anymore.
Other memorable moments of the night included Taylor Swift whispering to Selena Gomez as Harry Styles spoke on stage,
Miley Cyrus tweeting about her early departure,
Leaving the VMAs. No it's not over. I'm no psychic but congrats @onedirection #songofthesummer — Miley Ray Cyrus (@MileyCyrus) August 26, 2013
this picture of her ass,  

Lady Gaga looking like white bread,
and of course, this:
All in all, the 2013 VMAs left us with the can't un-see vision of Miley Twerk-Cyrus's behind, a greater appreciation for the Smith family, Jimmy Fallon-induced anxiety, and of course, the hopes for an *NSYNC reunion tour.